UNIFORM DECISIONS: My Life in the LAPD and The North Hollywood Shootout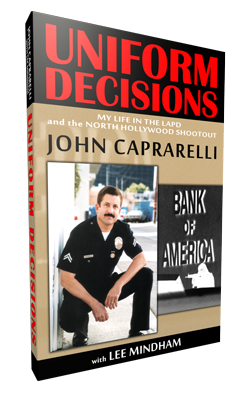 February 28, 1997, Los Angeles, California — After a botched robbery at a Bank of America branch in North Hollywood, two robbers armed with fully automatic assault rifles and wearing full body armor fired more than 1,100 rounds as they battled police.
Eleven officers and two civilians were wounded. The two robbers, Emil Matasareanu and Larry Eugene Phillips Jr., were killed by gunfire.
Officer John Caprarelli was one of the first officers at the scene. Before a national TV audience, he confronted one of the robbers, provoking a gun battle and exchanging numerous shots before the gunman fell.
Officer Caprarelli was awarded the LAPD's highest honor, the Medal of Valor, as well as a National Top Cops Award. In this memoir, John gives the reader a rare glimpse into his private life along with vivid recollections of events during his 27 year career with the LAPD culminating with a detailed breakdown of his thoughts and actions during the infamous bank robbery.